Jurassic World: Dominion Dominates Fandom Wikis - The Loop
Play Sound
The twelfth video from iamamiwhoami, and the sixth video from the bounty series. It was uploaded on June 30, 2010.
Music video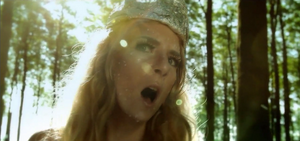 "t", the twelfth video, opens with footage of a snail dropping off a leaf. Standing waist-deep in the water, the back view of a naked woman covered in white drops shows her raising her hands to claim a floating crown made of aluminium foil. Also in the water are an orb and sceptre made of the same material. Her face is shown, and the previously unidentifiable woman is now revealed to be Jonna Lee. Lee marches through the forest, finds both the orb and sceptre, and emerges with a ruff made of the same material around her neck singing atop a cliff. Six women are seen on top of a Volvo 240 wrapped with aluminium foil, and they create a message with their bodies, "I am me". As the video ends, Lee discards the ruff and dives underwater, leaving behind the three items she found to float around the water at sunset.
The number 6 is present in the form of 6 women standing on top of a Volvo wrapped in aluminium foil.
The description of the video contained a link to a YouTube video of a young Evangelist boy preaching that the Theory of Evolution is wrong.
This music video is likely intended to be the "official" revealing of Jonna Lee as iamamiwhoami. This is quite clear from her lack of any concealment on her face for the first time; her features are shown clearly, making her identity glaringly obvious. There is an extreme focus on her teeth (in reference to her teeth shown in the prelude series) which also at the same time shows Lee's birthmarks beneath her lower lip.
The word "nesu" in the lyrics is short for "nä ser du" in Swedish, which means "No, we're not". Note that this is the first time iamamiwhoami used a non-English lyric in a track (not counting a quien le corresponda in u-1, which only appears in the music video and not the track).
Versions
Live performances
Lyrics
Nine lines were released on BULLETT's exclusive interview, including:
I'm on a hunt to find the cure.
It's where it all began.
There's a hunt.
We raise our children to the beat of its comforting pounding.
And the purest of hearts let their spirits be consumed.
A heavy sigh then not a sound.
If there's a want for something new, you might find me at the start or where it ends for you.
Let it sink in for a new beginning.
You feel better now?
A backwards march
My back against meadows of fear
Where it all began
And there's a hunt, for they seek the whom
And the purest of hearts let their spirits be consumed

There's a new world laid at your feet
We build an army from nothing
We raise our children to the beat its comforting pounding

A forward talk
Solely against old ways and means
We're not like them, nesu
I'm on a hunt to find the cure
And before I depart into the deepest blue

Behind all insecurity there is a wall of assurance
She is her own worst enemy
She fights her battles for no one
There's a new world laid at your feet
We build an army from nothing
We raise our children to the beat of its comforting pounding

Let it sink in for a new beginning
You know better now
Water fills her lungs and she's inhaling
You feel better now?
Underneath the stars her body sinking
You do better now
A heavy sigh then not a sound

We have no lives to sacrifice
She makes us sing, dampens the cries
If there's a want for something new
You might find me at the start or where it ends for you
Release history
Date
Release
Format
2010-06-30
t
Digital single and video
2010-09-24
t (Tele Tele remix)
Digital single
2010-12-04
IN CONCERT; t
External links