Seventh single from kin.
Music video observations
[
]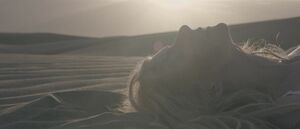 The music video begins where idle talk left off. While previously entering a closet filled with sand, Jonna Lee is now seen crawling in the middle of a desert, wearing white underwear and socks. She is then shown trying to navigate through the sand dunes, walking about aimlessly. There are shown to be band-aids plastered around her body. Lee follows a trail in the sand and the video ends with her at a cliff wearing what appears to be a hospital gown.
Trivia
[
]
The location of the video was earlier rumoured to be the Råbjerg Mile in Denmark, however fans have speculated that it was most likely filmed in the Maspalomas Dunes in Gran Canaria, Spain due to its proximity to where the 'kill' video had its production.
In a recent interview with The 405, Jonna Lee has cited rascal as one of her favourite songs to perform live, along with y.
Single
[
]
rascal — 4:46
Live performances
[
]
Lyrics
[
]
Seven lines were released on BULLETT's exclusive interview, including:
Someone who dares to lose it all.
I wanted us to live in times of bliss.
But I force myself towards departing.
I have to be the rascal taking all.
The farthest one can come too close.
The one molded like she's shaped in size with anyone.
Who's ready to take the fall for it?
Emptied one
At a single draft alone
Drained this ruin
The farthest one can come too close

Life could be better if I let me in
(What is to hold on to?)
But I force myself towards departing
(Leaving is what you do)

I had to make dirty in this soil
I had to be the rascal taking all
I wanted us to live in times of bliss
I couldn't evoke the memories I have missed

Left this one
Abandoned my ideals for what?
(Want to be just like you)
Moulded like I'm shaped in size with anyone
(Stand in line right next to everyone just like you)

I had to make dirty in this soil
I had to be the rascal taking all
I wanted us to live in times of bliss
I couldn't evoke the memories I have missed

Shut your eyes fast and all goes blank
And channel the vision, feel the scent of
Someone who dares to lose it all
And someone who's ready to take the fall for it

(Shut your eyes and all will be lost)

I'm taking all, I'm taking all
As a rascal taking all, I'm taking all
I'm taking all, I'm taking all
As a rascal taking all, I'm taking all
Release history
[
]
| Date | Release |
| --- | --- |
| 2012-05-08 | rascal video |
| 2012-05-09 | rascal single |
Charts
[
]
| Chart | Country | Peak position |
| --- | --- | --- |
| iTunes Store Top 10 Electronic Songs | Netherlands | #1 |
| United Kingdom | #42 | |
External links
[
]
Reviews