Jurassic World: Dominion Dominates Fandom Wikis - The Loop
Play Sound
The first series of videos, more commonly known as the preludes, beginning on December 4, 2009. It consists of six videos titled with a series of numbers. When indexed into the alphabet, these spell out words such as "educational", "i am", "it's me", "mandragora", "officinarum" and "welcome home". Mandragora officinarum refers to the mandrake root, which when fresh or dry may cause hallucination.
History

Each of the first six clips end with a drawing and sound of a different animal (goat, owl, whale, bee, llama, and monkey). The first three were originally released with video footage of the respective animals, derived from existing YouTube videos. The woman who owns the video of the goat birth flagged the video to YouTube staff, leading to its removal. The videos were subsequently re-uploaded without this footage. iamamiwhoami's videos continue to refer to other YouTube videos by posting links in the description of uploads, featuring subjects such as a news segment for the release party of high-end bottled water Bling H20, a clip featuring a child preacher, as well as a child beauty pageant.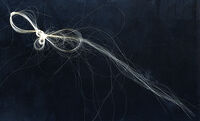 Having blogged about the videos, MTV journalist James Montgomery received a package by messenger, which included a lock of blond hair, a piece of bark, and a pictogram of the six animals with the question "says what?" furthering the mystery; the sixth clip ends with the woman in the video whispering "Y".
Videos
App
The iamamiwhoami official iOS app hit the App Store on the 15 March 2010. It was published by iLike, Inc., and has now been removed.
App Store info
iLike, Inc.
Artist ID: 315472351
App ID: 360780477
Category: Music
© 2009 iLike, Inc.
Vesion history
| Version | Date |
| --- | --- |
| 1.0 | 2010-03-15 |
| 2.0 | Unknown |
| 2.5 | 2011-03-15 |
| 2.5.1 | Unknown |
Images
Screenshots