n

n
release date
June 2, 2010
length
4:35 (single)
4:38 (video)
tags
n, bounty, iamamiwhoami
releases
n
June 3, 2010

N by Eineinmeier
June 25, 2010

IN CONCERT; N
December 4, 2010

ISWC
n
T-906.781.710-1
iamamiwhoami (00608508743)
n by Eineinmeier
T-906.781.711-2
iamamiwhoami (00608508743)
n - IN CONCERT
T-906.781.718-9
The eleventh video from iamamiwhoami, and the fifth video from the bounty series. It was uploaded on June 2, 2010.
Music video observations
Edit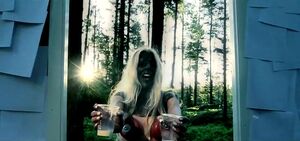 The video begins with a black cat seen giving out a buzzing sound. A black dog runs through a forest. A woman is seen lying in tin foil atop wooden boards, covered in various foods. Six lettuce leaves are placed at her head. She is later seen in a forest, her skin covered in a dark substance. The camera pans out to reveal this covers only her face and shoulders as she wears red cup-like devices on her breasts, and holds out two cups of white liquid. More cups dot the forest floor. We see a structure made of white papers. Inside, there is a wooden computer where a black cat sits. In a mirror, we see a camera with a young child operating it. As the video closes a figure covered in plastic bottles walks into the forest.
At 3:37 of the song, the phrase 'A quien le corresponda' is sung (reversed). It is Spanish for 'To whom it may concern.'
The description of the video contained a link to a YouTube video of a news report featuring a drinking water product named Bling H2O being sold as a premium and luxurious item.
Live performances
Edit
Dress the part, it's storytelling time

Sharpen your knives
Watering mouths
Clean your plates for some tender I

Tell me how the story ends now?

Come home, come see our place
Our labyrinth, you keep pace
We push the boundaries
So the rules are bent
Just give and take

Come wallow in my sorrow
Breathe your air into my lungs
What hides in my shadow?
My worst fear is real life

Tell me how the story ends now?
Release history
Edit
| Date | Release |
| --- | --- |
| 2010-06-02 | n video |
| 2010-06-03 | n single |
| 2010-06-25 | n by Eineinmeier remix single |
| 2010-12-04 | IN CONCERT; n single |
External links
Edit
Community content is available under
CC-BY-SA
unless otherwise noted.