Eighth single from kin.
Music video observations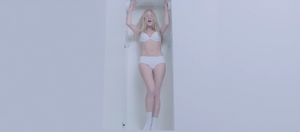 The music video begins where rascal left off. Jonna Lee sits atop a cliff and peels band-aids off her skin as she sings. Then her water breaks, splashing against the ground. The scene changes to a view of Lee sitting inside a closet. Another scene appears simultaneously, with Lee standing on the ocean shore as she sheds a tear. She then sinks, and is shown underwater, now in black underwear. Light filters into the closet, and she opens the door. She marches as she stands in the closet, and an alternate view shows her facing an apartment building (dressed in black underwear), similar to the one seen in sever and drops. Although looking as though she might jump off the ledge, she decides to close the door.
Trivia
The single was featured on the American iTunes Electronic "New & Noteworthy Singles" in May 2012.
The video was filmed in Gran Canaria, Spain.
Single
kill — 6:27
Official versions
in session — premiered on UK radio Xfm's X-posure, presented by John Kennedy on October 8, 2012.
Live performances
Lyrics
Creeping, throbbing
Saunter from corner to wall
Trying to part the whispers from shouting and calls
This will is itching
This want is making me soar
What is expected, to seem a happy whore

Come on just kill these
Demands and notions
All this commotion is not worth it
Come on just give this
A second coming
An age is dawning with all smiles and laughter
(x2)

One foot forward will you be catching my fall
Once I give, I know you'll be claiming more (from me)
You've had me scratching
You have been talking me sore
(come on, just kill this, come on)
What is expected, to carry you in my arms
(come on, just kill this, come on)

Come on just kill these
Demands and notions
All this commotion is not worth it
Come on just give this
A second coming
An age is dawning with all smiles and laughter
(x2)

Come on, just kill this (x12)
(and laughter)
Come on, just kill this (x6)
(and laughter)

Come on just kill these
Demands and notions
All this commotion is not worth it (not worth it)
Come on just give this
A second coming
An age is dawning with all smiles and laughter (and laughter)
All smiles and laughter
Release history
| Date | Release |
| --- | --- |
| 2012-05-22 | kill video |
| 2012-05-23 | kill single |
External links
Reviews