Sixth single from kin.
Music video observations
[
]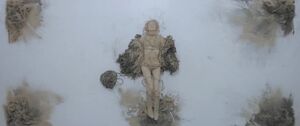 The music video begins where in due order left off. Jonna Lee is seen lying in a white room, wearing a fur coat while surrounded by five hairy piles of dust. She gets up and the environment changes to a field in the middle of the forest. She is covered in sand, and she puts on a hat. As she sings, another scene in an apartment is shown as the doors of a closet are seen opening and closing. Lee gets surrounded by birds as they leave droppings on her. She fondles her stomach and sheds a tear. She then walks away through various forested areas, and eventually to an apartment. She walks to a closet and opens it, sand spilling out. She then crawls into the closet.
Notes
[
]
Just as Lee seems to be struck by lightning in play, the charred, "hairy piles of dust" might be the remnants of the hairy figures after a lightning strike.
Lee returns to the exact location in play where she was struck by lightning, wearing the fur coat, the only difference being she now has braided hair, hair-textured underwear and a hat.
This video marks the final appearance of the hairy figures, and they are not seen again for the rest of kin.
The returning march to the building through the forest parallels the march in t.
Lee's outfit returns to the white underwear and socks from sever and drops when she's back in the apartment.
The reflection of the apartment building opposite the room shows a light being switched off in a particular unit.
The sand that spills out of the closet foreshadows the desert in rascal.
Trivia
[
]
Single
[
]
idle talk — 4:52
Official versions
[
]
Live performances
[
]
Lyrics
[
]
Where are you my long lost love
It feels like yesterday us parting
I held you closest to my thrusting heart
Now the withdrawal seems to be starting

You're not like anyone I know
With you I flourish into greatness
Extend my arms into immense delight
Making my future vast and weightless

Quite an undertaking
All fair promises
I stopped hearing you crow
Quite an understatement
And harm surfaces that is hidden in snow

I should have kept you safe
Shielded from our trojan war

Where are you my partisan
The last I saw of you was sinking
Into a giant hole of nothingness
As my desire started shrinking

If I choose to take you back (if you can swallow all that pride)
If I stand up for my believing (if you can still be what I lack)
Can we make up for all the joy we lack (where is the passion you were bringing?)
Can we start giving and receiving (what is the purpose of me giving?)

Quite an undertaking
All fair promises
I stopped hearing you crow
Quite an understatement
And harm surfaces that is hidden in snow

(It's the same)

Where are you my long lost love
It feels like yesterday us parting
Release history
[
]
| Date | Release |
| --- | --- |
| 2012-04-24 | idle talk video |
| 2012-04-25 | idle talk single |
| 2012-08-29 | idle talk video single |
Charts
[
]
Chart
Country
Peak position
iTunes Store Top 10 Electronic Songs
Sweden
#1
Netherlands
#3
External links
[
]
Reviews