hunting for pearls

hunting for pearls
release date
February 26, 2014
length
5:18 (single)
5:36 (video)
5:41 (CD/LP)
tags
hunting for pearls, iamamiwhoami
releases
hunting for pearls
February 26, 2014
To whom it may concern.

ISWC
hunting for pearls
T-913.762.521-9
Jonna Lee (00450572370),
Claes Björklund (00262527078)
Second single/chapter from iamamiwhoami's audiovisual album BLUE.
Music video observations
Edit
Jonna Lee is seen in a black jumpsuit running from faceless figures donning black jumpsuits. She holds a black cube in her hands, and hides behind a tree. The scene changes to Lee dressed in white, at the shore, seemingly frustrated as she hits the water. She then dives into it, and the same faceless figures from before look into the water, appearing to be searching for her. As Lee swims around in the waters, jewels are seen surrounding her, as well as a fish net. She is then seen dancing on a shore. The video ends with the faceless figures at the shore, pulling out the fish net.
The phrase "To whom it may concern." makes an appearance at the beginning of the video. This is the fifth occurrence on video overall, the first being b; the second being y, the third being 20101104, and the fourth being fountain.
The black cube she carries while running represents kin.
The artwork, featuring an image of Jonna Lee underwater, was revealed at 10AM CET on February 21st, 2014 via To whom it may concern.
The video was filmed in both Dyrhólaey and Jökulsárlón, Iceland.
This video was funded through the generate funding campaign. At the end of the video the phrase "GENERATED" makes an appearance.
hunting for pearls — 5:18
Deep blue diver, with our hopes in your hands
Won't you take me with you to another land?
Pure sapphire hiding in the sands of the darkest depths ever known to man
Join me, there is nothing we can't do

What composure and sharp slight of hand
At night I lay awake and hear you call my name

In the strangest lands I will grasp my chance
Sing the unsung words I have searched to spell

And I shackle myself, I risk it all
Bringing us closer to the core returning treasures to the shore
And together we take back what is ours
Hunting for pearls on the ocean floor for us to cherish and adore

Days are hollow
Nights come to my defence
I shut my eyes and focus not to lose her sense
It's her we follow
She holds the secrets buried
I know the place she goes, I wave him farewell
Join me, there is nothing we can't do
Additional images
Edit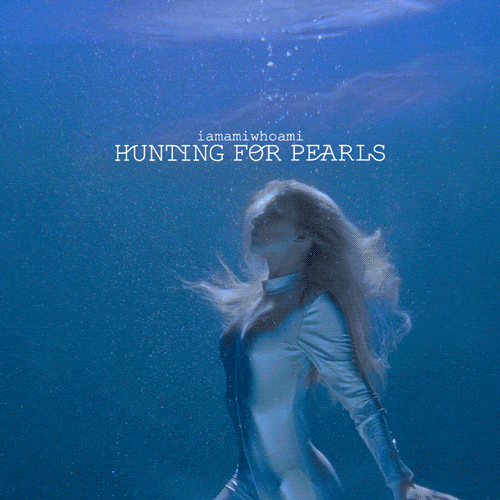 Release history
Edit
| Date | Release |
| --- | --- |
| 2014-02-26 | hunting for pearls single |
| 2014-02-26 | hunting for pearls video |
External links
Edit