goods

goods
release date
June 5, 2012
length
5:08 (single)
5:24 (video)
tags
goods, kin, iamamiwhoami
releases
goods
June 6, 2012
To whom it may concern.

goods
November 5, 2012
Promo CD
Cooperative Music
COOPR557
ISWC
goods
T-912.399.170-8
iamamiwhoami (00608508743)
Ninth chapter and single from iamamiwhoami's debut audiovisual album kin.
Music video observations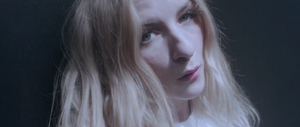 The video begins in a dark room, with Jonna Lee surfacing from the darkness, dressed in a black-and-white harlequin costume. She dances around the room, and it begins to spin as colorful lights flash throughout. The camera pans out to reveal she is within the compound of a black box, on a surface in a white room.
Trivia
The song was referred to as the second commercial single to be taken from kin for radio airplay, starting November 5th, 2012. A promotional disc was issued by Cooperative Music.
Single
goods — 5:08
goods (edit) — 3:40
Official versions
goods (edit) - found on goods (sample cd).
in session — premiered on UK radio Xfm's X-posure, presented by John Kennedy on October 8, 2012.
Live performances
Lyrics
I come bearing legacy that we caused jointly in our dawning land
I come with delivery and i have wrapped it in my mourning band

I give you my history that i expect your tender arms around
Five it love and think of me
These are the letters from our compound

We see the dawning of novelty
Where we embrace the grand of subtlety
Time finally caught up with me
A mouldering image of a fleeing fugitive

Toned down but playful
You say your greetings with goodbyes
Your cup is brimful
Sorrow stricken with a smile

Now we found the cure
Returning to the shore
Change is always given to the searchers who explore

Don't expect to hear from me
'cause i have got to feed our hungry mouths
I do enjoy your company
But we must work to keep you content

I see the better and worse in me
I embrace the grand of subtlety
But you finally caught up with me
A mouldering image of a fleeing fugitive
Release history
| Date | Release |
| --- | --- |
| 2012-06-05 | goods video |
| 2012-06-06 | goods single |
| 2012-08-29 | goods video single[1] |
| 2012-09-02 | goods video single[2] |
| 2012-11-05 | goods Promo CD single |
Charts
Chart
Country
Peak position
iTunes Store Top 10 Electronic Songs
Netherlands
#3
Italy
#7
Sweden
#7
References
↑

iTunes US

↑

iTunes: Austria, Cyprus, Czech Republic, Greece, Poland, Romania, Switzerland, Latin America.
External links
Community content is available under
CC-BY-SA
unless otherwise noted.