First single/chapter from iamamiwhoami's audiovisual album BLUE.
Music video observations
Edit
The video begins with Jonna Lee clad in a black jumpsuit walking away from a campfire. The scene changes to her clad in a white coat navigating the sea in a white motorboat. She is also seen clad in a white leotard wrapped with plastic, dancing on the sea shore. Scenes of a white cube burning in a campfire and white papers scattered in the sea are also seen in parts of the video, as well as a clear cubic tank. Lee pours a jar of sand (or ashes, as though a sea burial) into the sea, and various forest landscapes are scanned through as the video ends. 
The phrase "To whom it may concern." makes an appearance at the beginning of the video. This is the fourth occurrence on video overall, the first being b; the second being y, and the third being 20101104.
The white cube she burns is a reference to bounty.
An image of Jonna Lee wearing a white leotard and standing at the base of a waterfall was uploaded to iamamiwhoami and To whom it may concern.'s social profiles on January 17, 2014; the image was also featured on the label's website in the form of an animated GIF.
This video was filmed in Dyrhólaey, Iceland and at the Strokkur Geyser in Haukadalur, Iceland. 
This is the first music video from iamamiwhoami to feature their name as well as the song title in the video itself.
This is the first music video from iamamiwhoami not to be directed by Robin Kempe-Bergman.
This is the first single cover art to have the title of the song being displayed in uppercase text. It is also the first work from iamamiwhoami to have a noticeably customized use of typography.
This is the first iamamiwhoami video where a video still was released before public upload (channel art). A similar occurrence happened with goods (as seen in the trailer for kin).
This is the first video to be presented in 16:9.
fountain — 6:11
What lies beyond the fringe of the woods?
Dust to dust so we leave for good
When all has gone to blazes I start to run
Until I find places where nobody's gone

No more weight on your conscience
With ease I go back to the start

Surge like a fountain, like tide

And swallow the bleed
Flows like a fountain inside

Gather force from the sea
Riding this giant wave untied
Let it wash me clean

Crawling through deafening cold
Turning head there's no sight of home
Though my body's aching
 we have to push on

For every stride a new line is drawn

Surge like a fountain, like tide

And swallow the bleed
Flows like a fountain inside

Gather force from the sea
Riding this giant wave untied
Let it wash me clean

From watching eyes 
I blindly rove

To guard my stories
 and find new gold

Riding this giant wave untied
Let it wash me clean

What lies beyond the fringe of the woods?

Dust to dust so we leave for good
Release history
Edit
| Date | Release |
| --- | --- |
| 2014-01-22 | fountain single |
| 2014-01-21 | fountain video |
Additional images
Edit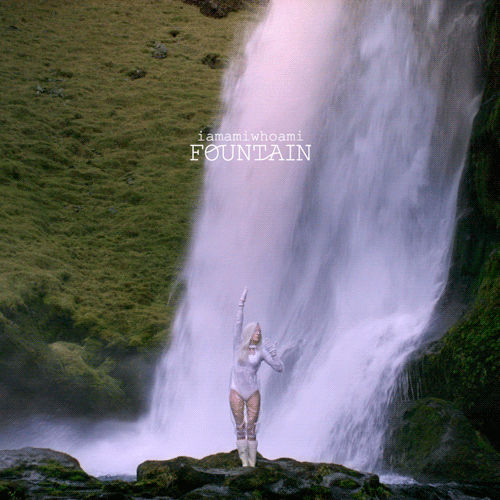 External links
Edit