The second single from kin, released on February 29, 2012, and the video uploaded the day before.
Music video observations
Edit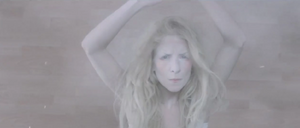 The video begins where "sever" left off. Jonna Lee is seen dancing by herself in a white two-room residence in an apartment building. A power socket is shown briefly. A hairy figure is seen lying on the ground, motionless. Lee steps on it, and slowly sinks down through it. She drops through each apartment directly below her. As she does so, two scenes are seen in an adjacent apartment building: A man in underwear is seen trying to hold the door shut as a hairy figure tries to force its way in, and a girl looking out of the window in a bedroom, with someone else laying in bed.
Lee eventually falls into the parking lot of the apartment building, where she sees another hairy figure on top of a tarp-covered Volvo 240. She is coated in plaster and debris after the drop, her appearance disheveled. The figure walks towards her and four other duplicates of it emerge. The five hairy figures then surround Lee before charging towards her. The video ends with a shot of the tarp-covered Volvo 240.
The girl from clump is seen during a scene in an apartment.
After a notable absence of it in "sever", Lee again has her face obscured by "makeup", this time in the form of white powder attributable to her descent through the floors. Her eyelashes are also white now.
The number six appears in the form of six hairy figures seen throughout the video.
After reaching the lowest floor, the debris around her has accumulated into the form of a knight's armor (recalling the knight in "y"). Faced with the hairy figure, she then drops her "sword".
The Volvo 240 from "t" and "IN CONCERT" is seen in the parking lot.
"drops" was nominated for a Swedish Grammy under the category 'Music Video of the Year'.
drops — 4:43
Live performances
Edit
Give up, let down
Can't believe what I found
(Keep quiet, be silent, these words from your mouth)

Build up from ground
Wipe clean of your frowns
(Turn around before we run aground)

One more wrong (Come back)
Costs you all (Come back)
Sticks like glue
Obstructs my view

Speak up, adapt
Watch closely, keep track
(Streamlined, live by the rules applied)
Thin line to walk, no time to stop
(This life your glorify a waste of time)

Give up, let down
Can't believe what I found (Found, found)
(Keep quiet, be silent, these words from your mouth)

Build up from the ground
Wipe clean of your frowns (Frowns, frown)

One more fault
Costs you all

Until I'm through
Release history
Edit
| Date | Release |
| --- | --- |
| 2012-02-28 | drops video |
| 2012-02-29 | drops single |
External links
Edit
Reviews
Community content is available under
CC-BY-SA
unless otherwise noted.