Jurassic World: Dominion Dominates Fandom Wikis - The Loop
Play Sound
clump
release date
July 31, 2011
length
4:27 (single)
4:46 (video)
releases
clump
August 2, 2011

ISWC
clump
T-912.400.808-8
iamamiwhoami (00608508743)
Music video observations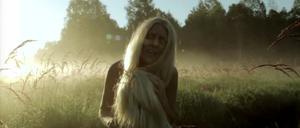 The video begins where ; john left off (the camera is focused on Lee's face while she lies on a toilet paper bed). The perspective is shown from above, as if the viewer is above her. Her body moves up and down as if being penetrated. When she closes her eyes, images of a woody scenery show a figure with long blonde hair moving through cattails and long grass. A naked Lee later finds the blonde figure midst the foliage and smiles as she caresses the blonde figure's head; she abruptly flees soon after, abandoning the child.
Notes
Trivia
Single
clump — 4:27
Live performances
Lyrics
Six lines were released on BULLETT's exclusive interview, including:
Is it a sad, sad sight viewed from afar?
Who's standing tall?
When all this is done we can do the things we said we would.
You see the overall of what we are.
You never had a true friend like I.
If my hands weren't so very sharp.
I never dreamt I'd meet someone like you
all unwanted features build the unity of you
but I like you

you see the overall of what we are
is it a sad sad sight viewed from afar
why don't you call

whatever made you into clump like you
the icing cold that leaks out through cracks of you
makes us as new

whatever made you seem so very small
are you tiny in real life but large in thought
who's standing tall

cannot wait until I get my hands on you
we can do the things we said we would
you never had a true friend like I
someone to pick you up when you needed to
be carried through

if my hands weren't so very sharp
this broken glass that surrounds wherever we are
wouldn't do us part

whatever made you into clump like you
the fiery warmth that reeks out from miles of you
is burning through

whatever made you seem so very small
are you in real life but large in thought
come stand up tall

cannot wait until I get my hands on you
we can do the things we said we would

cannot wait until I see your smiling faces
and our love
will be misunderstood
Release history
| Date | Release |
| --- | --- |
| 2011-07-31 | clump video |
| 2011-08-01 | clump single |
External links