b
release date
March 14, 2010
length
3:29 (single)
4:50 (video)
releases
b
March 15, 2010

B by Tara Busch
April 19, 2010

IN CONCERT; B
December 4, 2010

ISWC
up! / higher
T-205.125.418-0
Jonna Lee (00450572370),
Claes Björklund (00262527078)
b
T-906.716.127-7
iamamiwhoami (00608508743)
b - IN CONCERT
T-906.781.715-6
iamamiwhoami (00608508743)
The seventh video from iamamiwhoami, and the first video from the bounty series. It was uploaded on March 14, 2010.
b is the first single released as a digital download from iTunes, Amazon MP3, and other digital stores worldwide.
Music video observations
[
]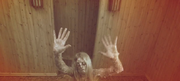 The seventh music video, uploaded on March 14, 2010, was titled "b", containing no numbers, breaking the trend of the previous videos. It does not include an illustration at the end, nor a numeric code. It begins with a shot of a children's mobile, along with the words 'to whom it may concern." in a wooden cabin. An hourglass is turned over and a blonde woman, wrapped in plastic, begins to play the piano. A black cat makes the goat noise from Prelude 699130082.451322-5.4.21.3.1.20.9.15.14. Four men sit in the room, seemingly entranced by her music. Their behavior and shots of their footwear suggest they are using the woman and her singing for medicinal purposes. The hourglass runs out and the woman finishes her song. The video ends with the camera on an empty crib, while a black cat exits the room six times on a loop.
Trivia
[
]
The description of the video contained a link to a YouTube video of a beauty pageant for little girls.
Though the song was listed as one of the optional encore bonuses in the official setlist for iamamiwhoami's live performance at the Brooklyn Masonic Temple, it was never performed (sever and clump were performed instead), thus being the only officially recorded song not to appear in any of the shows from 2012 and 2013, in neither the North American nor the European leg of the tour.
Singles
[
]
Credits
[
]
Video Production
Cast
Song
Live performances
[
]
Lyrics
[
]
There it was, the land of decay
We should pack our things and run away
Rest in the quick sand
Shoulder to shoulder, hand in hand
Sink slowly not take flight
Let silence take us at daylight
Take a deep breath as we go, as we go

Wanting higher
Wanting higher up
Wanting higher
'Til morning forces us to climb back down
I'd rather stay, I'd rather let us drown

Wanting higher
Wanting higher up
Wanting higher

What a harsh unpleasant hello
The paranoia I've learned to live with although
I will never shake what's there behind
Your songs are still playing in my mind
All the white only turns you blue
Look after me and I'll look after you
Take a deep breath as we go, as we go
Release history
[
]
| Date | Release |
| --- | --- |
| 2010-03-14 | b video |
| 2010-03-15 | b single |
| 2010-04-19 | b by Tara Busch remix single |
| 2010-12-04 | IN CONCERT; b single |
External links
[
]
Digital download