Soundrive Fest
performance
18 August, 2013
20:00 CEST
location
Gdańsk, Poland
venue
B90, Gdańsk Shipyard
event
Soundrive Fest
stage
Main
concerts chronology

Soundrive Fest

Latitude «
Concert
[
]
iamamiwhoami performed on Main Stage starting 20:00 CEST.
Setlist
[
]
Artist profile
[
]
For the past two years iamamiwhoami has surprised, delighted and intrigued in equal measure. Beautiful and mysterious music videos began to appear online, both surreal and visually sumptuous. Speculation was rife as to who the artist in question might be whilst the videos generated millions of hits and created a huge online following. Over time the singer was discovered to be Jonna Lee, though little was known of her or her collaborators. Plaudits followed including a Swedish Grammy award for 'Innovator of the Year', plus nominations for two MTV online music awards in 2011 and the "Digital Genius Award" this year. To date iamamiwhoami's videos have accumulated more than 15,000,000 hits.
Musically, iamamiwhoami transport you to a musical universe as magical and wondrous as the visual world they create; a deluxe digital dream of sexy and sophisticated electro-pop, as inventive as it is inviting.
iamamiwhoami are set to release new audio / visual document bounty on June 3rd. Centred on Jonna Lee, iamamiwhoami's ambitious approach stood out last year. Debut album kin contained an immaculately conceived collection of synth-pop hymns, which continually played with gender and sexuality. Refusing to play live shows, each performance from iamamiwhoami became an event. Matching each track with a new video, the project evolved beyond music and became more of an experimental in visual arts. The results are collected on "bounty". Consisting of 9 songs and 9 visual chapters, the material will be released on the group's own To whom it may concern. label via Cooperative Music in the UK.
Promo photo
[
]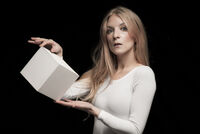 External links
[
]