Latitude
performance
July 21, 2013
16:55PM-17:45PM
location
Southwold, Suffolk, United Kingdom
venue
Henham Park
event
Latitude festival
stage
BBC Radio 6 Music
duration
50:00
9 songs
concerts chronology

Latitude

Melt! «
iamamiwhoami will perform on Sunday, July 21, 2013, from 16:55 to 17:45 on BBC Radio 6 Music Stage.
Artist profile
Edit
Awarded the 'Best Tease of the Past 12 Months' by BBC Radio 6 Music last year, iamamiwhoami is an audio-visual project led by Swedish singer-songwriter Jonna Lee that emanates from their own YouTube channel. The project merges electronic dream pop and film together with a compelling storyline like nothing you will have seen before. The 2011 winner of a Swedish Grammy award for 'Innovator of the Year', iamamiwhoami's first release came in typically mysterious fashion in 2009 when handpicked music bloggers received an anonymous email linking to an instrumental music video on YouTube video, the first of six. With rumours spreading about who was behind it all, the videos spread like wildfire across the internet and Jonna's involvement was eventually confirmed in 2011 after a series of follow up videos entitled 'bounty'. The following year, iamamiwhoami started posting videos in the 'kin' series, the songs from which were later collected in a physical album, with the 'bounty' album following this June. Now Jonna steps out of the videos to bring her iamamiwhoami project to life on stage. Don't miss it.
Promo photo
Edit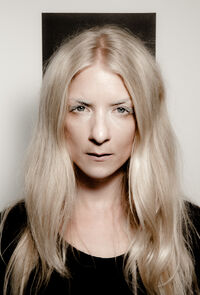 External links
Edit
Community content is available under
CC-BY-SA
unless otherwise noted.