Ether
performance
October 10, 2012
location
London, United Kingdom
venue
Queen Elizabeth Hall, Southbank Centre
event
Ether festival
duration
14+1 songs
guests
opening
Unplugged70
concerts chronology

» BBC Radio 6 Music: Lauren Laverne

Ether
iamamiwhoami performs at 20:00 at the Queen Elizabeth Hall on Southbank Centre on Wednesday. This was the first concert in which most attendees were iamamiwhoami fans due to it being a single-ticket performance and not a one-ticket-for-all performances event, and was also the first concert to have an encore. Additionally, the setlist differed from the previous concerts; this one having kill, o and ; john, all of which were not previously performed. The hall seats 900 patrons, tickets cost £17.50 for Zones A + BA and £15.00 for zone B. Concessions and Groups received 50% off.
Studio versions, played before the live performance:
[unknown]
u-2 (instrumental)
Live performance
Edit
[unknown instrumental outro]

Encore
Festival description
Edit
An extraordinary internet phenomenon, iamamiwhoami plays for the first time in the UK.
Her album 'kin' has been released over the course of 2012, with different tracks appearing each fortnight on iamamiwhoami's YouTube channel.
With 15 million views and counting, these surreal and visually stunning music videos have offered a glimpse of one of the most exciting new artists around.
Live band
Edit
Press photo
Edit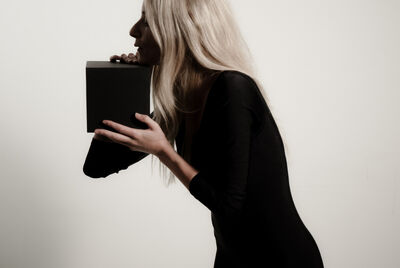 External links
Edit
Community content is available under
CC-BY-SA
unless otherwise noted.