The hairy figures, unofficially dubbed by the fans as clumps, are characters first introduced in the bounty series. They are a regular feature in the kin series, where they take multiple forms and appearances. On its significance, iamamiwhoami has commented:
"It represent a part of me and most others. 
Life with it is very much a delight. 
I have experienced the consequence of living without it. 
Which has the greater cost?"
In March 2016, the official name of the creatures was confirmed to be
urges
by Jonna Lee at the first pop up store for the project in Stockholm, Sweden.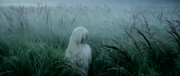 A girl with long blonde hair moving through cattails and long grass appeared in
clump
. A naked Lee later finds the blonde girl midst the foliage and smiles as she caresses her head; she abruptly flees soon after, abandoning the child.
Fans later dubbed the girl as a clump, due to her massive 'clump' of hair.
The
first chapter
of
kin
shows Lee, clad in white underwear and dirty white socks, sitting on the floor while the hairy figure stays behind her. The clump closes the apartments blinds and dances with Lee throughout the video. It is later suggested that Lee kills the clump after they dance, but he is shortly revealed to be lying on the floor in the second chapter,
drops
.
Lee steps on the motionless clump, and slowly sinks down through it, falling down several apartment floors to land in a parking lot. Durings Lee's descent, Captain Underpants is seen trying to hold the door shut as another clump tries to force its way in; unlike the two previous variations, this one is darker in colour with brown strands of hair. A smaller clump (bearing a striking resemblance to the one seen in the clump video) is seen looking out of a bedroom window.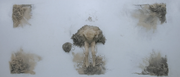 In the
sixth chapter
of
kin
, Lee is seen lying in a white room, wearing a fur coat while surrounded by five hairy piles of dust, previously the living clumps. They haven't appeared in any video after and are presumed to have "died".
Clump coat
Edit
The clump coat is actually a ghillie suit, a type of camouflage clothing typically designed to resemble heavy foliage.
In kin, Lee wears a clump coat throughout good worker, play and idle talk. She is also seen wearing clump-styled clothing in the video for in due order.
In kin tour performances, Lee takes a clump coat to the stage at the end of idle talk; she waltzes with it during sever and later wears it when performing play, y and rascal.
Variations
Edit
Community content is available under
CC-BY-SA
unless otherwise noted.