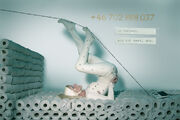 +46 702 888 037 was a phone number part of the promotion and announcement of iamamiwhoami's 2011 Way Out West concert. A full screen image stretched across towhomitmayconcern.cc, and other promotional images were later used for the festivals advertisement.
During the call the song "telesvar" played.
Promotional images in order of their appearance, below.
Other unpublished images belong to this photo series.
The call answered with a recording of an a-cappella song with background ringing, supposdely as a continuation of that found in the video for ; john. This song was performed at their Way Out West festival appearance, and has since been associated as ; john b.
The telephone number is now released, and unassociated with the project.
2010: IN CONCERT
2011: Way Out West
2012: Stockholm Music & Arts • Popaganda • Berlin Festival • Ether • BBC Radio 6 Music: Lauren Laverne • FreeFormFestival
2013: Razzmatazz: Grand Tour Suecia • Electric Brixton • Forbidden Fruit • Park Live • Pohoda • Melt! • Latitude • Soundrive Fest • Symbiosis Gathering • Brooklyn Masonic Temple
2015: CONCERT IN BLUE